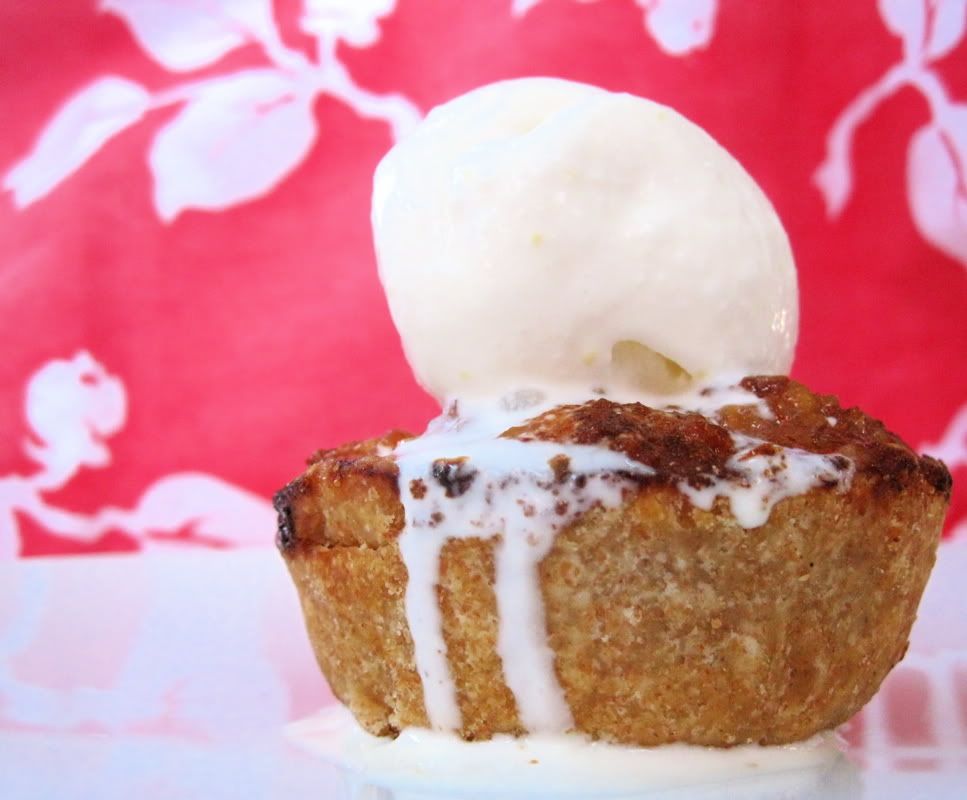 Tart Cherry Tartlets with Frangipane Filling for #Baketogether
These warm June days have me thinking of Michigan cherries, which inspired my #Baketogether recipe, Tart Cherry Tartlets with Frangipane.
This is my second summer without fresh tart cherries. When we lived in southwest Michigan, June brought an exciting abundance of fruit. I always felt slightly giddy-anxious as I raced against time to prepare favorite recipes before each fruit's all-too-short season played out.
In early June (and late May), there were strawberries. Following quickly were cherries, tart and sweet, gone too fast. Then blueberries, apricots, peaches, plums and apples.
Getting my hands on fresh, locally grown tart cherries was a thrill, because I'd never had access to them in other states where I'd lived. I still remember the first precious quarts of pie cherries I brought home and how I stood over the sink pitting them first with a bobby pin and then resorting to my thumbs. I remember thinking those raw cherries tasted pretty dull. It takes sugar and heat to reveal the cherry flavor we know and love.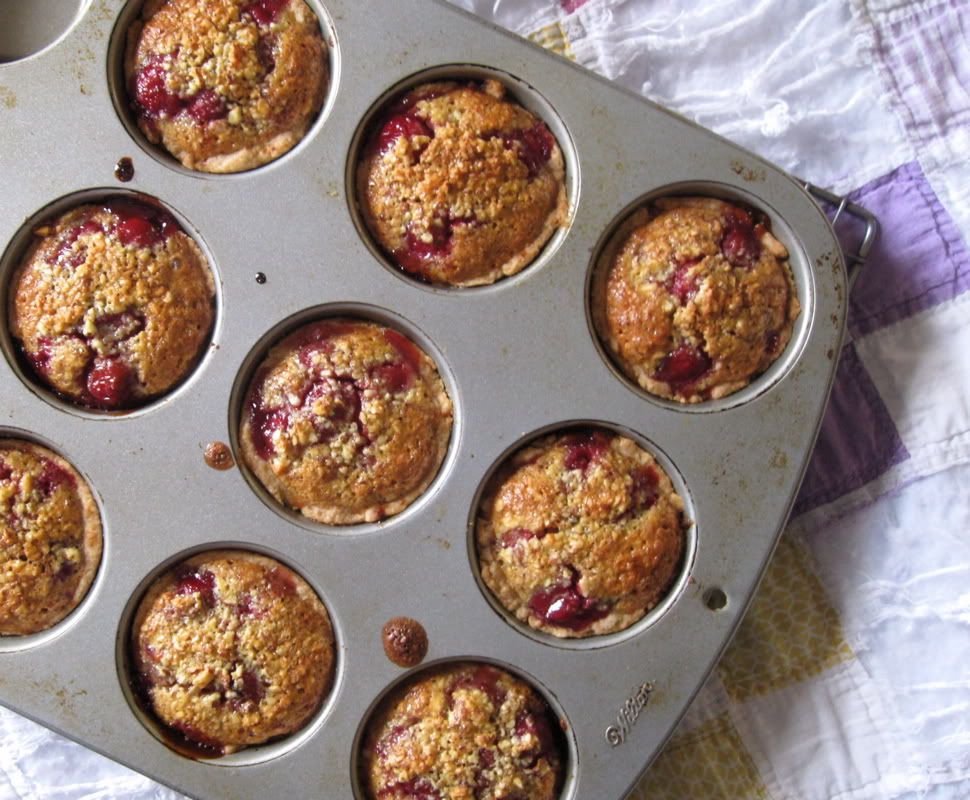 Of course I'm not the only person missing Michigan cherries. The weird weather this past winter and spring damaged the cherry crop in the Mitten State. It's so tough up in Glen Arbor, MI that the good folks at Cherry Republic — a cool retail and mailorder operation for all things cherry — have had to outsource some cherries from Poland.
I haven't found fresh tart cherries here in Iowa, but it's not for lack of trying. I did find frozen fruit, though if you can find fresh ones, please do use them.
Cherries and almond love each other and I love them, too, so I made a frangipane filling. Abby's crust I changed to use half rye flour because Kim Boyce uses rye in her piecrusts and I like the slightly sweet note that results. Other than that, I followed it to the letter. The pastry was easy to handle and I enjoyed it.
Thanks, Abby, for another great recipe. Here's to better days for cherry growers and cherry lovers.
Tart Cherry Tartlets with Frangipane
For the dough:
2/3 cups (6 ounces) all-purpose flour
2/3 cups (6 ounces) rye flour

1 tablespoon granulated sugar

1/2 teaspoon table salt
6 tablespoons (3 ounces) unsalted butter, cut into 6 slices, well chilled

2 tablespoons (1 ounce) vegetable shortening, cut into 2 slices, well chilled
2 tablespoons + 1 teaspoon very cold water

2 teaspoons freshly squeezed lemon juice
For the frangipane filling
:
1 cup almond flour

1/2 cup granulated sugar

2 eggs
2 tablespoons butter

1 teaspoon almond extract

For the cherries:
8 ounces fresh or frozen (and thawed) tart cherries
1/2 to 2/3 cup granulated sugar
Make the dough:
1. Put the flours, sugar and salt in a food processor and pulse briefly to combine. Add the butter and shortening and pulse until the butter and shortening pieces are slightly larger than pea size, about 10 to 12 pulses depending on your machine. Drizzle the water and lemon juice evenly over the flour mixture. Pulse until the dough begins to form moist crumbs that are just beginning to clump together, about 8 or 9 more pulses depending on your machine.
2. Dump the moist crumbs onto a large piece of plastic wrap and gather into a pile. With the heel of your hand, push and gently smear the dough away from you until the crumbs come together, using the
fraisage
technique. Shape into a 5-inch disc and wrap tightly in the plastic wrap and refrigerate until firm, about 2 hours, or up to 2 days.
Line the tart pans
:
1. Position an oven rack in the lower third of the oven and heat the oven to 375°F. Lightly grease ten regular-sized (2 3/4 to 3 inch diameter) muffin cups.
2. Set the wrapped, chilled dough on the counter at room temperature until it's pliable enough to roll, 10 to 20 minutes (depending on your kitchen temp and the weather). Arrange a large piece of plastic wrap or parchment on the work surface and put the dough in the center. Cover with another piece of plastic or parchment and press down on the dough to flatten. Using a rolling pin, roll the dough between the plastic or parchment to about 1/8- inch thickness, turning, lifting and repositioning the plastic or parchment and lightly flouring throughout the rolling. Using a 3 1/2-inch round cookie cutter, cut out 8 rounds. Gather up the scraps, re-roll to a 1/8-inch thickness, and cut another round. Re-roll and cut one more round for a total of 10 rounds of dough.
3. Working with one round at a time, use your fingers to gently press the dough into a prepared muffin cup, making sure there are no air bubbles in the bottom and the dough is pressed firmly and evenly up the side to within 1/8 inch of the top of the cup. Repeat with the remaining dough rounds. If your kitchen is hot, slide the muffin tins into the refrigerator while you make the filling.
Make the fillings and bake the tarts
:
1. Place the cherries in a small saucepan and stir in the sugar. Turn on the heat and cook slowly for about 15 minutes, until the sugar melts and the cherry juices start to thicken a bit. Remove from the stove and let cool.
2. Put the almond flour, sugar, eggs and almond extract in a bowl. Mix well with a whisk until the eggs are well incorporated.
3. Using a slotted spoon, take out five or six cherries (or one heaping tablespoon of cherries) and fill each tartlet with this amount. Then spoon some of the frangipane mixture to cover. It's OK to mound it slightly. Bake until the filling swells and turns a golden brown, about 40 minutes. Move the muffin tin to a wire rack. Using a paring knife, run the blade between the crust and the pan to loosen the tarts from any sticky berry juices and let cool for 10 minutes. Using a thin, metal spatula or the paring knife, carefully remove the tarts from the muffin cups and set them on a wire rack. Serve warm or at room temperature.