Almond Angel Food Cake with Blackberry Curd
April has been a busy month. I started a new job after more than a year of the housewife life. I enjoyed my little break but it was time to get back into the working world.
It's a writing post in the fundraising world, something I can feel good about every day. What I did not anticipate was the actual adjustment the job would require. Deciding who would get up first (I do, at 5:30 am, which is drastic to friends who know me well), making sure the rabbit's morning routine is disrupted as little as possible (he has adjusted beautifully), remembering to pack a lunch.
Where, when and how to fit in exercise (right now it's after work). And how to sit down to a healthy supper before 8 pm. I haven't yet figured that out.
I'm trying to carve a sweet and balanced life for my family. I've slowed a bit in posting here, but hope to resume a more regular schedule once I've figured out a new rhythm.
Coincidentally, April is the one year anniversary for Dust with Flour. Thank you, dear readers, for visiting and leaving such kind comments along the way. I'd wanted to start a blog for many years but the workaday life was a hurdle. I was definitely baking, but it didn't get beyond that.
Free time arrived when we moved out to Iowa. My husband encouraged me to put off returning to an office in order to get our household settled. I jumped at the opportunity. Two months later, I was cooking, photographing and writing. It was pleasant to discover my thoughts were turning to photo angles and spice blends as I took mid-morning runs at a nearby trail. One year away charged my creative battery.
Which brings me to this Almond Angel Food Cake. Blogging can be rather lonely until you connect to a community. Enter Twitter. I found
Abby Dodge
, the cookbook author and recipe developer, on Twitter. I don't remember exactly how, but her
#Baketogether
event was just what I needed to find conversation, spark my imagination and gain new culinary skills.
Abby herself is so generous with ideas and encouragement, as are the other #Baketogether bloggers.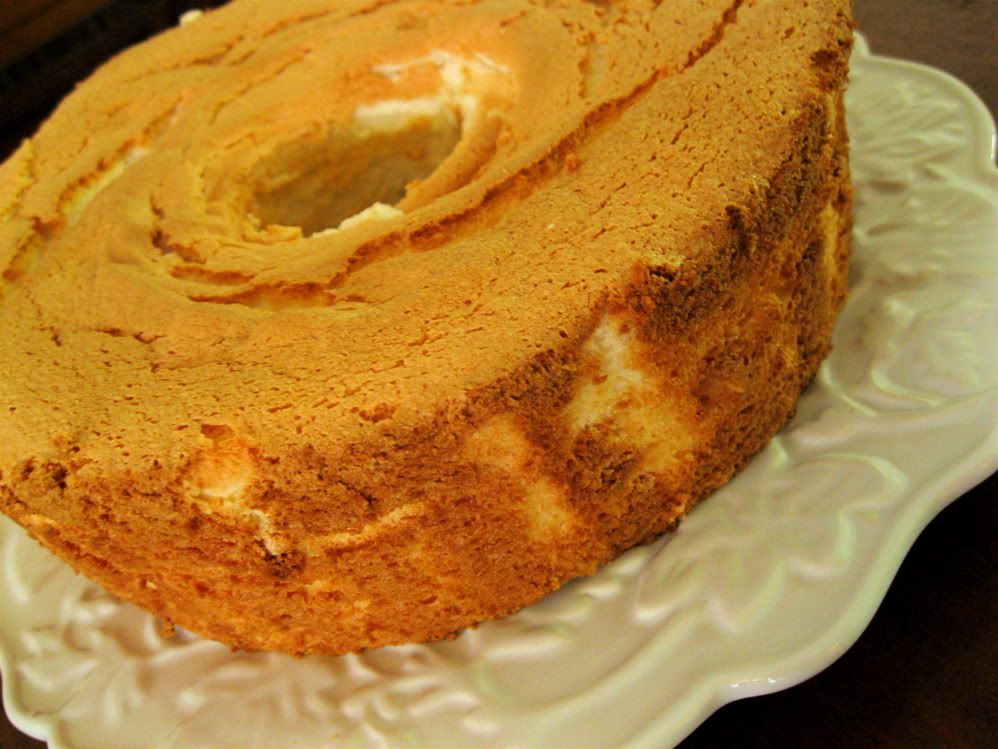 April's recipe is
Tangerine Angel Food Cake
with Caramel Sauce. I've tended to avoid angel food cake mostly because I prefer its much richer cousin, the pound cake. Still, an angelfood cake is a lovely creature and I could not resist making one.
I thought a lot about how to flavor it — chocolate, almond or lemon verbena came to mind. However, as I folded in the sugar and flour, I could not bear to do anything but substitute almond extract. That white fluffy batter was too pretty to alter with color or texture.
The resulting cake was gorgeous — spongy, tender and fluffy with a fine, even crumb.
For an accompaniment, I made a blackberry curd with my go-to
microwave recipe
, thereby putting to use some of the 11 extra egg yolks. (The other egg yolks just might be used in ice cream pretty soon.) I love any kind of citrus curd and wondered how a blackberry version would taste. It's silky and good. Blackberries need heat and sugar to bring out the flavor. I can't wait to have some on whole wheat toast.
And here is the recipe for Almond Angel Food Cake, celebrating one year of blogging and the next steps in a sweet life.
Almond Angel Food Cake
Makes one voluptuous, 10-inch cake or about 12 servings.
1 cup (4 ounces) cake flour
1 1/4 cup (5 ounces) confectioners' sugar

1/4 teaspoon table salt
11 large (1 1/3 cups) egg whites, at room temperature
1 1/2 teaspoons cream of tartar
1 cup (7 ounces) superfine sugar
 (I whirred regular sugar in the food processor)
1 1/2 teaspoons pure almond extract
Heat oven to 350. Have ready an 10 x 4–inch angel food cake pan. If the pan doesn't have feet to support it while cooling the cake, have ready a bottle or funnel to hold the pan in a level, upside-down position.
Sift together the flour, confectioners' sugar and salt three times. (Abby said to do this and I complied, so you should, too) Set aside.
In a large bowl, beat the egg whites with an electric mixer fitted with the whisk attachment on medium-low speed until foamy. Add the cream of tartar, increasing speed to medium, and beat until whites are opaque and climbing about half way up the bowl (the tracks from the whisk will be beginning to hold their shape) forming very soft peaks. Continue beating while slowly and continuously adding the superfine sugar. Beat on medium high until the whites are thick, shiny and form medium-firm, fluffy peaks. (The peaks should droop over gently.) Do not over beat. Add the almond extract. Beat just until blended, about 10 seconds.
Sift 1/4 of the flour mixture over the beaten whites. Using a large rubber spatula, gently fold the dry ingredients into the whites. Repeat with remaining flour mixture, one quarter at a time.
Pour batter evenly into the prepared pan. Smooth the top. Bake until the cake is light golden brown and the cake is springy when touched, about 40 minutes. Immediately invert the pan onto the counter if the pan has feet. If it doesn't, invert the pan, sliding the center tube onto the neck of the bottle. Let cool completely.
To remove the cake, rotate the pan, gently tapping the bottom edge of the cake pan on the counter as you turn it until the cake loosens from the pan. If necessary, run a long, thin knife between the cake and the pan and around the inside of the tube to loosen the cake. Slip the cake from the pan and gently lift it up from the center of the pan and arrange on a flat serving plate.
Blackberry Curd
Note: This recipe calls for fresh blackberry juice. I made mine using a little over 6 ounces of fresh berries which I cooked in a saucepan with about 1/4 cup water and 1 Tablespoon sugar. I cooked the berries until they melted, and mashed them using a potato masher. Then they were strained using a sieve.
3/4 cup blackberry juice
4 egg yolks
2/3 cup sugar
1 Tablespoon unsalted butter
Place all ingredients in a large microwave safe container and follow the directions for microwave lemon curd (also known as
Lemon Curd for the Easily Distracted
). Alternatively, you can place the ingredients in a double boiler and cook slowly until the mixture thickens.